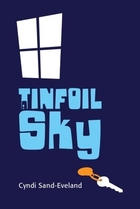 A Tinfoil Sky
by Cyndi Sand-Everland was sent to me as a LibraryThing Early Reviewer book several months ago. In the New Year, I will resolve to do a better job with reviewing books in a timely manner, but for now, publishers will have to accept my apologies. Better late than never, right?
Twelve-year-old Mel and her mother Cecily have bounced around from one place to another since Mel was very young, and the place they've been living for the past two months is the worst Mel remembers. So, when Cecily wakes her up at 3:39 in the morning, shoves a pile of clothes and bedding into Mel's arms, and hustles her out to the car, Mel is glad to leave. Cecily announces that they are going home, back to the town where Cecily grew up and where Cecily's mother Gladys still lives. Mel envisions a warm and welcoming grandma who will bake cookies and wrap her in a loving embrace, but the reality is much different. When Mel and Cecily arrive at Gladys' apartment, Gladys refuses to open the door. Cecily and Mel live for a while in their broken-down car, parked near the river off the side of the highway, and Mel stands on the corner and sings to earn a little spare cash. But one day, Cecily doesn't return to the campsite. What will become of Mel on her own?
This was a fairly good book, though I had a few issues with some plot points. While the characterization was strong, I did find Mel a little too good to be true at times. Also, while I can't help but like the fact that Mel retreats to the library for peace and safety because she loves to read, I had a hard time buying the idea that they would hire her, even for just a few hours a week, particularly to do preschool story time. Researching Canadian minimum age laws (I believe the story is set in Canada, though that's never overtly stated), I see that it is legal in some provinces to hire 12-year-olds, but it's such a strange thing to do that it just threw me out of the story. Those plot quibbles weren't enough to keep me from enjoying the book and finishing it off in one evening, though. If you enjoy stories about plucky children overcoming bleak circumstances like poverty and homelessness, this book is for you.
(Reviewed from a finished copy, courtesy of the publisher, via the LibraryThing Early Reviewers program.)