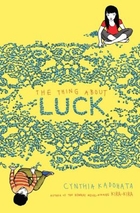 The Thing About Luck
by Cynthia Kadohata is a deep, quiet story about growing from a child to a teen.
Summer's parents and grandparents are wheat harvesters -- during harvest season, they travel across the Midwest with a crew of combine operators. This year, Summer's parents have been called back to Japan for a family emergency, so she and her younger brother Jaz will travel with their grandparents. Harvest time usually means a lot of boredom for children of harvesters, but Summer knows this season will be different. She will be helping Obaachan (Grandmother) prepare the food for the work crew, keeping an eye on Jaz and hopefully helping him figure out how to make a friend along the way, and maybe spending some time with Robbie, a boy just a little older than Summer. But when Jiichan (Grandfather) falls ill at a critical point during a harvesting job, Summer faces more challenges than she had initially expected.
This is one of those books that is so strong in one aspect -- in this case, characterization -- that it makes up for some of the shortcomings elsewhere. Summer, Jaz, and her grandparents are so vividly written, their relationships so pitch-perfect and their dialogue so true, that it makes up for the fact that the plot is pretty slim in this novel. Those looking for a read with a lot of excitement and adventure will not find it here. There's a lot of information about combines and wheat, and I think that some readers will be put off by this (see
Moby Dick
and the detailed information about whaling for comparison). However, I still think it's one of the strongest children's books I've read this year, and readers with the patience for it will find it an extremely rewarding read.
(Read from a finished copy, courtesy of the publisher.)