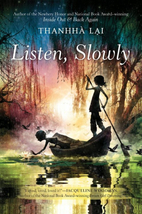 Listen, Slowly
by Thanhha Lai is a lush story of family and heritage.
Mai has her summer all planned out: hanging out at Laguna Beach with her friends, flirting with that cute boy she's been eying. Then her parents inform her that she is going to spend the summer traveling to Vietnam with her grandmother, who is seeking closure in regards to her husband, Mai's grandfather, who disappeared during the war. This will also give Mai a chance to get in touch with her own cultural heritage, her parents add. Mai feels that she is in touch with her heritage just fine, and has no need to spend a summer far from California to explore it. Couldn't one of her parents accompany her grandmother? But her mother, a lawyer, has a busy summer slated at work, and her father, a doctor, will travel with them to Vietnam, but will then continue to more remote villages to perform surgeries and other procedures for people who could otherwise never afford them. And so it is that Mai finds herself in Vietnam, having a far different summer than the one she had planned, and yes, getting in touch with her roots. But finding out the truth about what happened to her grandfather all those years ago will take more work than Mai could have imagined.
Thanhha Lai's masterful use of language has already been established for those who have read her earlier verse novel
Inside Out and Back Again
. I was surprised to see that
Listen, Slowly
is prose, not verse, but not surprised that it exhibits the same level of linguistic virtuosity. Lai's multifaceted characters come to life against the rich backdrop of modern Vietnam. With touches of pathos and splashes of humor, this book tells the story of a journey of discovery for Mai, as well as for her grandmother. Mai's character development is the real heart of the story as she learns to truly appreciate her heritage. Highly recommended.
(Reviewed from a finished copy, courtesy of the publisher.)