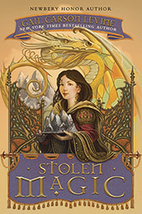 Stolen Magic
by Gail Carson Levine is the sequel to
A Tale of Two Castles
.
Elodie, the dragon Masteress Meenore, and the ogre Count Jonty Um are on their way to visit Elodie's home on the island of Lahnt, but before they can reach the farmhouse, they learn that a sacred artifact has been stolen -- and if it's not returned within three days, there's likely to be a volcanic eruption, endangering hundreds of people. Finding missing items is Masteress Meenore's specialty, and as It's apprentice, Elodie has already proven that she has some skills in that area, as well -- but it will take all of the wit and cunning Elodie and her companions can muster in order to discover the thief in time to avert disaster.
This is a solid fantasy with a nice interweaving of mystery. I did not realize that it was a sequel when I picked it up, though I actually read
A Tale of Two Castles
back when it first came out. It's been a while since then, and my memory of that book is hazy at best, but I didn't feel like I was missing much. So, I'm comfortable in saying that you could read this book as a stand-alone without feeling too lost. It's of a similar quality to other books by the same author -- enjoyable, but not phenomenal. Readers who like other books by Levine will probably like this one, as well.
(Reviewed from an advance copy, courtesy of the publisher.)