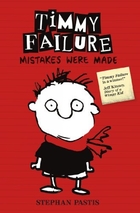 Timmy Failure: Mistakes Were Made
by Stephan Pastis won me over with a catchy title. It failed to deliver the level of humor that I had hoped for, though I'm sure it will find plenty of other readers. For those who like that sort of thing, that is the sort of thing that they like.
Timmy Failure is head of the best detective agency in the city, probably the state, possibly the nation -- Total Failure, Inc. His efforts toward greatness are hindered by his business partner (a 1,500-pound polar bear named Total, hence the business name), the occasional assistance of a classmate, the good-intentioned interference of his mother, and the evil schemes of one Corrina Corrina, head of a rival agency. Of course, the reader is quickly clued in: Timmy is clueless, his polar bear is imaginary, his classmate is able to easily solve puzzles that leave Timmy perplexed, his mother is a longsuffering single mom who just wants to see her son pass fifth grade, and Corrina is basically entirely oblivious to Timmy.
I can see how this scenario could have been funny, but for me it netted only a weary chuckle or two. I found Timmy's clueless egotism tiresome, and the whole book felt to me like it was trying too hard to be clever, to win over the
Diary of a Wimpy Kid
audience with its similar, highly-illustrated style. I don't see this series being as successful as Wimpy Kid -- Timmy is nowhere near as relatable as Greg -- but it will definitely get recommended as a read-alike.
(Reviewed from a copy borrowed through my library system.)