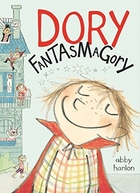 Dory Fantasmagory
by Abby Hanlon is an easy chapter book about an imaginative youngest child.
Six-year-old Dory gets no respect from older siblings Luke and Violet, but that's all right by her, because she has a rich imagination, populated with friends and villains who seem just as real to her as the people in her family. She has fabulous adventures with these imaginary creatures, but when she sacrifices her sister's favorite doll to one of them, will she find that she has finally gone too far?
This is a quirky little story that may appeal to readers familiar with other trouble-making youngsters who populate the world of early chapter books. I found Dory a little irritating, myself . . . but then again, I am an older sibling!
(Reviewed from a copy borrowed through my library system.)