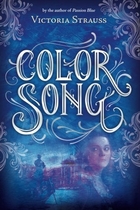 Color Song
by Victoria Strauss is the sequel to
Passion Blue
, which I reviewed earlier this month. This review does contain a few necessary spoilers for
Passion Blue
.
Giulia thought her future was bound up within the artists' studio at the Convent of St. Marta, studying under her Maestra, Sister Humilita. But when Humilita becomes seriously ill, Giulia's future is in jeopardy. Once again Giulia finds herself fleeing from the convent, this time carrying the precious recipe for Passion Blue, Sister Humilita's signature paint color. Giulia's plan is to travel to Venice and find a position with Humilita's old friend, Master Painter Ferraldi. But if she is to succeed, she will have to disguise herself as a boy. Nobody must know that Ferraldi's new apprentice Girolamo is actually runaway novice Giulia, because there are still people in Padua who would do anything to get their hands on the recipe for Passion Blue . . . and not all of them are peaceful nuns.
I was greatly impressed with
Passion Blue
, especially the way it changed up some of the common tropes of the young adult novel.
Color Song
is, in some ways, a little more traditional: a headstrong girl goes on an adventure and finds her place in the world (and even romance along the way). It's still an enjoyable read, well-researched and engaging, and I would recommend it to readers who enjoyed its predecessor.
(Reviewed from a copy borrowed through my library system.)