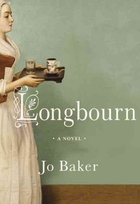 Longbourn
by Jo Baker tells a story that bustles behind and beneath the familiar world of
Pride and Prejudice
.
Sarah was an orphan before the housekeeper at Longbourn took her on as a housemaid. Now she scrubs floors, does laundry, helps prepare meals, and does dozens of other tasks for the members of the Bennet family. Sarah sometimes dreams of more -- of being a lady, or at least, not a servant -- but Longbourn is a good place, all in all, and Sarah is lucky to be there. When a new footman is hired, a taciturn man with a mysterious past, Sarah is at first intrigued, and then, when he seems to snub her in favor of keeping to himself, disdainful. Another man, a servant of Mr. Bingley who has recently arrived in the neighborhood, also fascinates Sarah, as he has ambitions beyond his current station. Will he be Sarah's ticket to freedom, or does happiness lie with the enigmatic but undeniably attractive footman?
One of the fascinating things about this story is the way it ties in to the familiar events of
Pride and Prejudice
, but does not tell that story from a different perspective. Those looking for a below-stairs view of Elizabeth and Mr. Darcy's romance may be disappointed; Sarah has plenty going on in her own life, and the concerns of her employers take a backseat to matters of her own heart. The Bennets, though generally portrayed as kind employers, are also exposed in some of the foibles that only servants would be privy to. And, of course, some events in P&P have more of a bearing on the servants' hall than others: the visit of Mr. Collins is a noteworthy affair, since he will someday be the servants' employer, and could decide to summarily fire all of them when he takes possession of the house if he is not suitably impressed by the quality of service!
I found this a highly enjoyable book, well-written and well-researched. If you are an Austenophile or generally interested in historical fiction about ordinary people, I certainly recommend this book.
(Reviewed from a copy borrowed through my library system.)