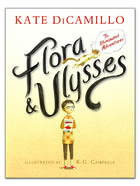 Flora and Ulysses: The Illuminated Adventures
by Kate DiCamillo is a quirky story about a comic-book-obsessed girl and her poetry-loving squirrel.
Flora Belle Buckman is a cynic -- but even she is amazed when she sees a squirrel get sucked into a vacuum cleaner, and emerge triumphant. The ability to escape almost certain death by vacuum proves to be only one of Ulysses the Squirrel's extraordinary abilities. Of course, he has enemies, too . . .
To tell the truth, the plot of this story is not what sticks with me after reading -- it's the quirkiness that makes an impression. Amid the wacky squirrel-related adventures, there are some deeper musings on philosophical questions of life and love, elevating this above the level of "just another crazy superhero book." I liked it well enough, but did not love it.
(Reviewed from a copy borrowed through my library system.)