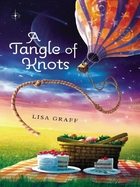 A Tangle of Knots
by Lisa Graff is a quirky fantasy full of cakes and luggage.
Eleven-year-old Cadence has a Talent for baking cakes -- she can look at a person and know exactly how to make the kind of cake they would like best. Cady is an orphan, despite the fact that she lives with a woman whose Talent is matching orphans to their perfect families. Cady's past is more mysterious than most, however, and it will take a special train of circumstances, involving a prankster, a Talent thief, a peanut butter factory, a powder-blue suitcase, and more before everyone in the story ends up exactly where they are supposed to be.
This book reminded me inevitably of
Savvy
by Ingrid Law, what with the special Talents that many of the characters possess. The author did many things well, particularly telling the story from multiple distinct viewpoints and taking a convoluted plot and bringing all of the elements together in the end. There are also delicious-sounding cake recipes interspersed -- that, and the folksy quirkiness reminded me at times of
Pie
by Sarah Weeks. I thought this was a good story, though not (at least for this reader) a great one.
(Reviewed from a copy borrowed through my library system.)