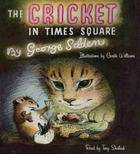 I'd been meaning to read
The Cricket in Times Square
by George Selden for some time now. So, when I was browsing through available audiobooks for a recent trip, I was pleased to come across this -- and not only was it a book I had been meaning to read, but it was narrated by Tony Shaloub!
Mario's family owns a newsstand in the Times Square subway station. One day, while minding the stand, Mario hears a sound one doesn't usually hear in New York City: the soft chirping of a cricket. The cricket in question is Chester, who inadvertently caught a ride in from Connecticut in a picnic basket. Mario is fascinated by the small creature and makes a pet of him -- albeit one that lives at the newsstand, since his mother will not allow the insect into her house. At the newsstand, Chester is soon befriended by Tucker Mouse and Harry Cat, two street-smart city dwellers who appreciate Chester's friendly personality and musical ability. Chester enjoys life with his new friends, but then, disaster strikes, and it is at least partially Chester's fault. Can he find a way to make up for it to his benefactors -- and will he ever find his way back home to Connecticut?
I'm not sure how I missed out on this book as a kid, since it's just the sort of thing I would have liked. I enjoyed it now, of course, though it is a little dated in spots (Mario visits Chinatown and the depictions of his visit there don't sit as well with a modern audience as they may have in the past). Unsurprisingly, Shaloub's narration is excellent and contributed to my enjoyment of the story.
(Reviewed from a digital audiobook borrowed through my library system.)