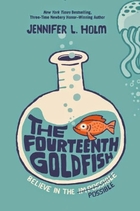 The Fourteenth Goldfish
by Jennifer L. Holm is a delightful sci-fi story for middle grade readers.
Ellie's grandfather is a scientist. He's cranky, particular, and hoards packets of soy sauce when they visit the Chinese restaurant. What Ellie does not expect is that one day he will turn up at her house as a teenage boy, having discovered a cure for aging using cells from a rare jellyfish. Grandpa Melvin, now looking like an oddly-dressed thirteen-year-old, is discovering that being a teenager again has its drawbacks -- most notably, he can't get into his lab any more to continue working on his experiments. Ellie, on the other hand, is discovering the drawbacks of adolescence for the first time, as her best friend discovers new interests that don't include Ellie. Then again, Ellie is discovering new interests of her own: when Grandpa Melvin talks about science, it's a lot more interesting than she ever realized before. With the help of a new friend from school, Ellie and Grandpa Melvin hatch a plan to rescue Grandpa Melvin's experiments from his lab so he can continue his work. But Ellie is starting to wonder if there might be serious consequences to Grandpa Melvin's discovery. Is helping him continue to experiment really the best thing to do?
This story has a lot of good things going for it: it's a fast, funny read that incorporates a lot of science without becoming didactic. I thought it had just a couple of weaknesses, all related to the ending, which I don't want to give away here. So, if you find the summary intriguing, you will just have to read it and tell me whether you buy what happens at the end of the book, or if you (like me) were expecting a different outcome based on certain clues in the text. But even though I'm not a hundred percent sold on the ending, I thought this was an excellent book, and I'll be recommending it to kids at my library.
(Reviewed from a copy borrowed through my library system.)