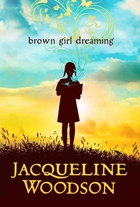 Brown Girl Dreaming
by Jacqueline Woodson is a memoir in verse from a gifted author.
In spare and lovely free verse poems, Woodson describes her early life. Born in Ohio, she moved with her mother and siblings to South Carolina at a young age, then to New York a few years later. Woodson describes how she learned to tell stories, while also exploring the era in which she grew up and the experiences -- some happy, some sad -- that she shared with her close-knit family.
This is a National Book Award finalist, and a book that's been getting a lot of Newbery buzz. I liked it a lot, and can certainly see its distinguished qualities. I tend to want memoirs to be more like novels (real life has a distressing lack of plot, have you noticed?), but Woodson does a good job of tying her life story together in a cohesive way. Whether it scoops a lot of big awards or not, I think this is an important book, and I'd recommend it to memoir readers and kid lit aficionados.
(Reviewed from a copy borrowed through my library system.)