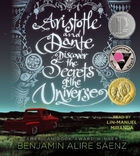 Aristotle and Dante Discover the Secrets of the Universe by Benjamin Alire Sáenz has a cover nearly completely obscured by shiny award stickers, all well-deserved.
Ari's always been something of a loner, but that changes during his fifteenth summer. That's when he meets Dante -- also something of a loner, though in most ways very different from Ari. The two boys quickly become fast friends, but can their friendship survive the turmoil that their teenage years will hold?
It's interesting: I've read a few reviews here and there from people who really disliked the writing style in this book. Now, granted, I listened to the audiobook, so I don't know if reading it on the page would have been different for me, but in listening to the story I found that Sáenz has an absolutely brilliant ear for dialogue. I was blown away by the writing here -- very simple, but just
true
in a deep, solid way. I loved the characters, Dante's parents in particular, and just when I thought this was going to be a quiet sort of coming-of-age story, a plot twist came along and punched me in the gut. All in all, this was one of the best books I've read (well, listened to) this year. It's not quite perfect -- I have a minor quibble with the ending, and there are a couple of minor characters that I'd have liked to know a little better -- but it's a really good book, and I definitely recommend it. And if you are an audiobook listener, this may be one of those rare titles that is better as an audio than in print.
(Reviewed from an e-audiobook borrowed through my library system.)