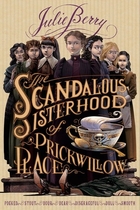 The Scandalous Sisterhood of Prickwillow Place
is a delightfully macabre Victorian tale.
The seven students at St. Ethelreda's School for Young Ladies have little in common, but one thing they all agree on is that they don't care much for their headmistress Constance Plackett, and even less for her oily brother Aldous Golding. So, when both headmistress and brother drop dead over Sunday dinner, the girls mostly feel a mild regret that they will be split up -- for, despite their differences, they all get along quite well together. And then, they hit upon an idea: what if they were to bury the corpses in the back garden and just . . . carry on? Of course, this plan doesn't take into account Mr. Golding's surprise birthday party, or the visit from Mrs. Plackett's solicitor, or the Strawberry Social. Not to mention that it's hardly coincidence that both Mrs. Plackett and Mr. Golding dropped dead at the same meal. Poison was almost certainly involved, but who administered it? Was it Disgraceful Mary Jane Marshall, seeing a way to escape the strictures of boarding school life? Smooth Kitty Heaton, who proves to be such a competent organizer when Mrs. Plackett is out of the way? Dour Elinor Siever, with her unhealthy fascination with death? Or was it someone from outside the school? Who could it be -- and why?
This book is a delightful romp. I had so much fun reading it. I particularly enjoyed how the author differentiated the girls by using their adjectives (i.e. Disgraceful Mary Jane, not just Mary Jane) throughout -- that was by no means the sum of their characters, but it proved a useful method for keeping all of them straight in my head. The mystery was clever and by no means obvious, and the little romances were charming side-notes to the story. If this sounds like your sort of thing, you should give it a try!
(Reviewed from a copy borrowed through my library system.)