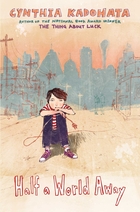 Half a World Away
by Cynthia Kadohata is a compelling story of family dynamics.
Twelve-year-old Jaden was adopted from Romania four years ago, but he still doesn't feel like he belongs in his American family. His disconnectedness leads to acting out: setting fires, hoarding food, running until he falls down. Now, Jaden's adoptive parents are going to Kazakhstan to adopt again, a baby this time. Jaden feels like he is being replaced -- like his adoption was such a failure that his parents want to start over with a different kid. In Kazakhstan, Jaden and his parents discover that they baby they had arranged to adopt was given to another family, so now they must choose another child on the spur of the moment from the ones available at the baby orphanage. Jaden feels an unusual attachment to Dimash, a nonverbal toddler who is almost too old to be at the baby orphanage, but his parents are set on adopting a baby. Jaden also finds that he feels a connection to Sam, the acerbic driver who chauffeurs the family around during their time in Kazakhstan. Despite the fact that the trip halfway around the world was all about adopting a new baby, it becomes a time of personal growth for Jaden, too. But what will become of Dimash if Jaden's family does not adopt him?
I thought this was an interesting, well-crafted read. Jaden's a fairly unsympathetic protagonist (an unusual thing in children's literature), but Kadohata's skillful character development brings Jaden closer to the reader as the story moves along. As an adult reader, I was also caught up in Jaden's parents' story as seen through Jaden's eyes. I also thought Kadohata did a great job with an unusual setting (how many books can you think of that are set in Kazakhstan?). This is one of the strongest children's books I have read this year.
(Reviewed from a copy borrowed through my library system.)