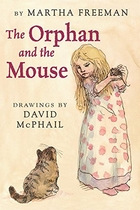 The Orphan and the Mouse
by Martha Freeman is, as you might have guessed, the story of an unlikely friendship set in an orphanage.
The mice at the Cherry Street Children's Home have an unusual fixation: they are devoted art collectors. The little mouse-sized pictures with the conveniently sticky backs that Matron keeps on her desk are irresistible, and Art Thief is a prestigious position in the mouse community. Mary Mouse is the first female to hold the post after her husband, the previous Art Thief, fell victim to an unfortunate on-the-job accident involving the resident feline. When Mary seems about to suffer a similar fate, she is rescued by one of the girls at the Home -- but in the process, she is seen, not just by that one girl, but by other humans, who schedule a visit from the dreaded Exterminator. The Cherry Street mice will have to move . . . and Mary, the one who brought this disaster down upon them, will be left behind. It's basically a death sentence for Mary, except that the orphans are involved in their own drama, one that Mary will find herself involved in because of Caro, her sympathetic human rescuer.
This book takes a lot of inspiration from
Stuart Little
, and reads like a mid-century children's classic. It's just the sort of book I would have liked when I was eight or nine, and I hope it will find an audience of similarly enthusiastic young readers today. The characters (both mouse and orphan) are delightful, and there's just the right amount of action and adventure to keep the plot moving along. It does start with a rather traumatic mouse death (Mary's husband's encounter with the cat), but readers who can get past that will find a lot to like in this story.
I don't usually comment on book covers, but I feel this one does a particularly poor job of making the book attractive to young readers. The girl on the front looks no older than six (Caro is supposed to be ten), and the cream background and the cream nightgown make the whole thing look washed out. I expect better from an artist of David McPhail's caliber.
(Reviewed from a copy borrowed through my library system.)