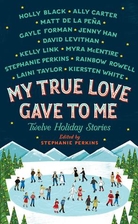 My True Love Gave to Me: Twelve Holiday Stories
is a holiday short story collection edited by Stephanie Perkins, featuring stories by some of the hottest names in YA right now: Holly Black, Gayle Foreman, Laini Taylor, Rainbow Rowell, and more. Though, naturally, some stories are better than others, the overall quality of this anthology is high.
My personal favorites were "It's a Yuletide Miracle, Charlie Brown" by Stephanie Perkins, "Welcome to Christmas, CA" by Kiersten White, "The Girl Who Woke the Dreamer" by Laini Taylor, and of course "Midnights" by Rainbow Rowell. "Polaris is Where You'll Find Me" by Jenny Han struck me as the weakest of the lot, and I didn't particularly care for "Krampuslauf" by Holly Black, though that's more a matter of taste than of quality (Holly Black is a hit-or-miss author for me). Also, because I used to live in Oklahoma, I spent more time while reading "Star of Bethlehem" trying to pinpoint the geography than I did actually enjoying the story. I'm not convinced that Ally Carter has ever been to Oklahoma. My main issue with the book as a whole was that it led off with the story that should have been saved for the grand finale. That's obviously a minor issue, because on the whole I found this collection an enjoyable read, and I would recommend it to anyone looking for a light, seasonal story or twelve.
(Reviewed from a copy borrowed through my library system.)