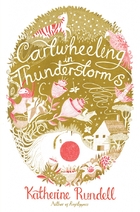 Cartwheeling in Thunderstorms
by Katherine Rundell is the story of a wild orphan transplanted from Zimbabwe to a London boarding school.
Wilhelmina Silver has always been allowed to run a little bit wild. She lives on the farm where her father is the overseer, and she has her best friend Simon, her horse and her monkey, fruit ripe for the picking, and the freedom to go wherever she wants and spend her days however she chooses. When disaster strikes and Will is shipped off to boarding school, she might as well have been sent to another planet. Grief-stricken and claustrophobic, Will decides to run away . . . but London is not like Africa. Where can she go to find the wide-open spaces she craves?
This book reminded me strongly of
Listening for Lions
by Gloria Whelan, as the main characters in both books had the same strong affection for Africa. All in all, though, I'd say this book is not quite as strong. The characterization is good, but the pacing is problematic -- so much time is spent setting up Will's idyllic existence at the beginning of the book, that the reader (at least, any reader who has read the jacket copy) is left waiting for the other shoe to drop, so to speak, and for Will to be sent away to London. In comparison with the leisurely beginning, the London parts of the story feel a bit rushed, and the ending wraps up a little too neatly. I did enjoy reading this story despite its issues, but I'm not sure who I would recommend it to.
(Reviewed from a copy borrowed through my library system.)