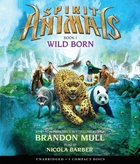 Wild Born
by Brandon Mull is the first book in the Spirit Animals series, another interactive, multi-platform juvenile series from Scholastic.
Across the world of Erdas, four children have summoned spirit animals -- and not just any spirit animals, but four of the Great Beasts. In an upcoming conflict between good and evil, these four youngsters and their animals will be key players.
This initial book sets the stage for the rest of the series, and also shows the four children facing their first quest and battle. I think this series will probably be as popular as similar series. I read (or rather, listened to) this one in order to stay current with popular kids' books, but I will probably not continue with the series.
(Reviewed from an e-audiobook borrowed through my library system.)