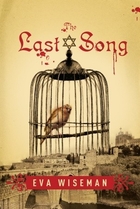 The Last Song
by Eva Wiseman is a story of intrigue and escape during the early days of the Spanish Inquisition.
Isabel attends Mass regularly and finds great consolation in prayer, so it comes as a shock when she discovers that her family is of Jewish heritage, and her parents secretly practice the old faith. In Toledo, Spain in 1491, secrets like that can have disastrous consequences. In spite of the danger, Isabel feels an irresistible curiosity about her heritage. She secretly befriends Yonah, the son of a Jewish silversmith, who takes her to places where she can learn covertly about her parents' faith. Isabel and Yonah's friendship might even become something more -- but Isaebel is betrothed to Luis, a cruel and loutish boy, but the son of an Old Christian family. Isabel's parents hope that this connection will keep Isabel safe in Spain's volatile political atmosphere, but Isabel feels that the price may be too high. Can she find another way to escape persecution, one that doesn't involve marrying Luis?
The real strength of this novel is the setting. Wiseman obviously did her research, and Isabel's world is described in vivid detail. Unfortunately, the characters, dialogue, and plot are less powerful. I found Isabel annoying, Too Stupid To Live at times -- she makes impulsive decisions that put her life, her friends' lives, and her family's lives in danger on a whim. None of the secondary characters were particularly nuanced or rounded, and the dialogue often seemed a bit stilted. It's not that this is a bad book -- it's just not a great one. Readers with a particular interest in Jewish history, the Spanish Inquisition, or historical fiction in general may want to take a look, but others will probably be okay to skip this one.
(Reviewed from a finished copy, courtesy of the publisher, via the LibraryThing Early Reviewers program.)