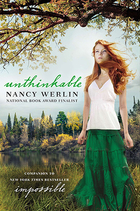 Unthinkable
by Nancy Werlin is the sequel to
Impossible
.
Lucy broke the curse on the Scarborough women, but Fenella, the curse's original victim, still isn't free. She's been a captive in Faerie all this time, cursed with unnaturally long life, forced to see Padraig's twisted desires fulfilled with each of her descendants. Now Padraig's power is broken, and Fenella just wants to die peacefully -- but she can't. She petitions the Queen of Faerie, and learns that the only way she can gain death is by completing three tasks, just as Lucy did. There's a twist, though: Fenella's tasks are all acts of destruction -- and they must be carried out against Fenella's family: Lucy, Zach, and baby Dawn, Lucy's adoptive parents Leo and Soledad, and poor Miranda, the last Scarborough to suffer the full effects of the curse. Fenella is determined to complete the tasks and earn her death, and to cause as little damage as possible in the process. But there are a few things she doesn't foresee...
I enjoyed this almost as much as
Impossible
, and more than
Extraordinary
, which is a companion to these two books. Fenella's desperation and determination at the beginning of the novel are tempered by her curiosity about 21st century life when she arrives at Lucy and Zach's house. I also really liked the way Fenella's back-story, the beginning of the Scarborough curse, is woven into the narrative. I recommend this book, but it's imperative to read
Impossible
first.
(Reviewed from a copy borrowed through my library system.)