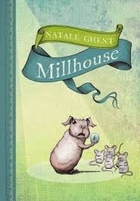 Millhouse
by Natale Ghent is the story of a theatrical guinea pig languishing in a pet shop.
Ever since his former owner died, Millhouse (or Milly, as he prefers to be called) has lived at a rather unsuccessful pet shop. The other small animals at the shop make fun of him for his theatrical ambitions, and because he is a hairless guinea pig. Indeed, his appearance has proved off-putting to more than one potential buyer, and Milly wonders if he will spend his entire friendless life in a cage at the shop. Fortunately for Milly, friendship awaits in unexpected places, and there may yet be the perfect home out there just for him.
This book wanted to be one of those sweet and charming animal stories, but I found it only moderately successful. Milly's foibles didn't make me like him better, and although I did thoroughly dislike the other guinea pigs at the pet shop, I didn't think they were particularly distinct or at all well-developed characters. Perhaps young readers who really love stories of animals (and guinea pigs in particular) will embrace this book more than I did, but I'm just not feeling it.
(Reviewed from a finished copy, courtesy of the publisher, obtained through the LibraryThing Early Reviewers program.)