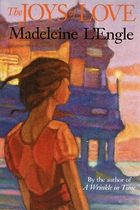 The Joys of Love
by Madeleine L'Engle is a coming-of-age story set in the world of summer stock theatre just after the second World War.
Elizabeth's Aunt Harriet does not approve of the theatre, but it's been Elizabeth's dream ever since she can remember. Elizabeth's parents are dead, and her strict aunt has seen to her upbringing, but Elizabeth made a deal with Aunt Harriet before going to college: if Elizabeth studied chemistry and graduated with honors, she would be allowed a summer working in the theatre. And, finally, that summer has arrived. Elizabeth managed to secure an unpaid apprenticeship, and Aunt Harriet begrudgingly sends a weekly check for room and board. Elizabeth is having the time of her life with her new friends... and Kurt. Kurt Canitz is the charismatic young director, and he finds Elizabeth's naivete refreshing. Elizabeth is a bit starstruck and madly in love. She knows he doesn't exactly love her, not the way that she loves him, but she turns a deaf ear to her friends' warnings about the danger Kurt poses to her heart. And of course there's plenty of other backstage drama as well. Just when it looks like both love and theatrical success are within Elizabeth's grasp, things fall apart. Will Elizabeth have to give up on her dreams?
Published after L'Engle's death, this early novel of hers is a sweet and simple story drawing on her own experiences as a young woman in the theatrical world. The book's title is a reference to the song "Plaisir D'Amour" -- "The pleasure of love lasts only a moment / The grief of love lasts a lifetime." Elizabeth is full of love for both Kurt and the world of the theatre, but when Kurt disappoints her (as it's obvious he's going to do; that's hardly a spoiler, right?), she has to grow up a bit and take a look at the theatrical world that she's idealized, and decide whether it's still what she wants to do if it's not as gleaming and perfect as it seemed from Aunt Harriet's spare bedroom. I really enjoyed this book, though it's perhaps not as deep and complex as some of L'Engle's better-known books.
(Reviewed from an advance copy, courtesy of the publisher . . . er, some time ago.)