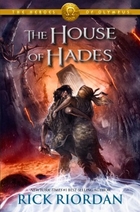 The House of Hades
by Rick Riordan is the fourth book in the Heroes of Olympus series. This review will contain some spoilers for earlier books in the series.
Gaea the earth goddess is waking, and this means trouble for all of the Olympians and demigods. As Jason, Piper, Leo, Hazel, Frank, and Nico fight to continue their quest, Percy and Annabeth struggle to survive in Tartarus. If both groups of demigods can arrive at the Doors of Death at the same time -- Percy and Annabeth from Tartarus, and the others from the human realm -- Percy and Annabeth can be saved, and the monsters can be stopped from constantly regenerating. But neither journey will be easy. . .
This series continues to be a lot of fun, packed with action and humor and a little bit of romance, too. The problem with having such a large cast of characters is that it's hard to give each of them time to shine, but I actually thought that was done better in this book than in the previous one. Frank, Hazel, Leo, and Nico each had nice moments of character development in this book, and since Percy and Annabeth were apart from the rest of the group, they also had plenty of page space. This book also manages to balance the series dynamic with the story arc of the individual book -- it's the penultimate book in the series, but it didn't feel like it was just there to build up to the final battle. I'm looking forward to
The Blood of Olympus
next fall, but I'll probably try to reread not only the Heroes of Olympus, but the Percy Jackson series as well, before that book's release.
(Reviewed from a copy borrowed through my library system.)