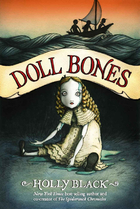 I wasn't saving
Doll Bones
by Holly Black to review on Halloween, but since the day is here and I need to review the book, I can't pass up the opportunity to do so!
Zach, Poppy, and Alice have been playing an imaginative adventure game with dolls and action figures for a long time. In the back of his mind, Zach knows that the game can't go on forever, and now that they're in middle school, he really doesn't want his school friends to know that he still plays with dolls -- but he also doesn't want the game to end. But when Zach's father throws away Zach's bag of action figures in an attempt to get him to grow up, Zach calls an end to the game rather than admit that his characters are gone. Poppy, in a desperate attempt to keep the game going, convinces Zach and Alice to accompany her on one final quest. You see, the Great Queen, an antique bone china doll, has always ruled over the game from afar. Poppy claims to have seen the ghost of a girl who was murdered, whose bones were incorporated into the china that became the Great Queen and whose ashes serve as stuffing. Now, Poppy says, the girl wants to be laid to rest. To do so, the friends must take a bus to the town where the doll was created and find the cemetery where the girl is supposed to be buried. At first, Zach is skeptical . . . but strange things start to happen when the doll is with them. Is the girl's ghost really haunting the three friends, and if so, will burying the doll in the girl's grave put her spirit to rest?
This is a fantastic and well-written story, and definitely worth reading. It was not, however, as scary as I had been led to expect. It's entirely appropriate for the middle-grade readers that are its intended audience, which is a testimony to Holly Black's writing skill, since she often writes darker young adult fiction. I didn't expect young adult-level horror, but I think I was anticipating a somewhat better written version of R.L. Stine. This book has some decidedly creepy moments, particularly toward the end of the book, but it is really more about the themes of friendship, imagination, and growing up than about haunted dolls. And the kids spend a night in a library during their quest, which is always a bonus for librarian readers! Recommended.
(Reviewed from a copy borrowed through my library system.)