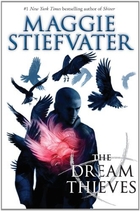 The Dream Thieves
by Maggie Stiefvater is the second book in the Raven Cycle.
Ronan has some special abilities that even he doesn't really understand, and in this book he takes center stage as he learns how to manipulate his dreams. There's a lot more going on in the book, of course -- but that's all the summary I'm going to write!
Sometimes the second book in a series falls into a slump, but due to the way the focus has shifted, this book does not suffer that fate. It's just as enthralling as the first book, and fans of
The Raven Boys
will be thrilled to get to spend more time with these well-written and interesting characters. There's plenty of action and danger, and it's a quick, exciting read that will leave readers anxious for more. If you enjoyed the first book, you will want to read this one!
(Reviewed from an advance copy, courtesy of the publisher.)