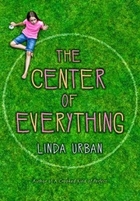 The Center of Everything
by Linda Urban is another recently-published juvenile novel, one that was nice enough but not particularly to my taste.
Nothing has felt right in Ruby Pepperdine's world ever since her brilliant grandmother Gigi died. Ruby's having trouble with friends both old and new, and worst of all, she regrets that she didn't stop and listen to her grandmother when she had the chance. Now, all of Ruby's hopes are pinned on one event: the town's annual Bunning Day celebration. Ruby has been selected to read an essay as part of the festivities. Can she use her one minute in the spotlight -- and a special birthday wish -- to make things right again?
This book exudes small-town coziness, and the plot ambles along at the speed of marchers on a parade route. I found it a pleasant read, but not one that sticks out as particularly memorable or distinguished. Kids (and maybe even adults) who enjoy this sort of cute and folksy story might like it better than I did.
(Reviewed from a copy borrowed through my library system.)