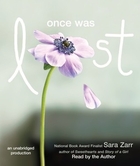 Once Was Lost
by Sara Zarr is the story of a family and a community coping with difficult circumstances.
Samara's mother is in rehab following a DUI, and her pastor father is struggling to maintain a veneer of confidence and normalcy in front of his parishioners. The family finances are strained to the limits, and Sam is facing a school year at the local public school, instead of the private school she has attended until now. She's also dealing with a crisis of faith, as she struggles to come to her own terms with God after realizing that her parents are not infallible. There's a lot on her plate, but when Jody, a 13-year-old girl from the church's youth group, disappears one Sunday afternoon from the quiet small-town shopping district, Sam's life grows exponentially more complicated. Suddenly, her father is stepping into the media spotlight as he comforts the shocked and grieving family and helps coordinate the search efforts -- all the while, spending a suspiciously large amount of time with the church's pretty, young, female youth pastor. Sam finds herself spending time with Jody's older brother, a boy she's always harbored a small crush on -- but can she trust him? After all, in cases of an abduction like this, it's often a close friend or family member who turns out to be the perpetrator...
I liked this book well enough, but it has a few quirks that bothered me. For one thing, the book is split up by days, but the first day is actually the day before the abduction, and it's not a particularly significant day in Sam's life, either. The difference between the numbering of the days/chapters and the number of days Jody had been missing kept pulling me out of the story. Also, I was listening to the audiobook (read by the author), and I had trouble telling, sometimes, whether Sam said certain things, or just thought them. In the book, I'm sure formatting would make this clear, but it's an aspect of Zarr's writing that does not transfer well to the audio format. So, if you are interested in this story, I'd recommend picking up the book, not the audio.
(Reviewed from an e-audiobook borrowed through my library system.)