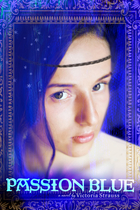 Passion Blue
by Victoria Strauss is a story of finding one's place, set in the vibrant world of the Italian Renaissance.
All her life, Giulia has dreamed of being an artist -- but she knows that's impossible for a girl in fifteenth-century Italy. The next best thing, she thinks, would be to marry a supportive husband who would let her pursue her passion as a hobby, at least. But when her father dies and his jealous wife packs Giulia off to a convent, she believes her dreams are doomed to be crushed, unless she can find a way to escape. Everything changes, however, when she meets Sister Humilita and the other nuns in her workshop -- a true painter's workshop, known across Italy for their artwork, particularly because of Passion Blue, a paint color invented and carefully guarded by Humilita. As an apprentice in Humilita's workshop, Giulia glimpses the life that could be hers if she stays: a life dedicated to art and painting, one she could never have outside of the convent. But just when she is beginning to feel settled at the convent, she meets Ormanno, a charming young artist who could offer Giulia a means of escape, if she is willing to betray Sister Humilita and her other new friends at the convent. Giulia thought she would have to choose between love and art -- with Ormanno, is it possible for her to have both?
I found this a delightful and well-researched look into Renaissance Italy. The main plot line is definitely YA, and some readers may be frustrated at 17-year-old Giulia's bad choices, but I thought they were realistically depicted and believable in the larger framework of the story. I thought the depiction of life at the convent was particularly well-done, showing as it did the many different types of women who chose (or were forced into) that lifestyle. All in all, a satisfying and enjoyable read.
(Reviewed from a copy borrowed through my library system.)