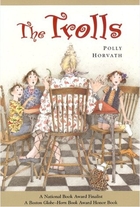 The Trolls
by Polly Horvath is a warm and funny family tale with surprising depth and hints of melancholy.
Aunt Sally is the sister that their dad never talks about, but when Melissa, Amanda, and Pee Wee Anderson's parents need a babysitter for a week and the normal one is sick, the children find themselves in the charge of Aunt Sally, the oddest relative they have ever encountered. Aunt Sally lets the children dig through her luggage and play with their food, and she tells them the wildest stories of growing up on magical, mysterious Vancouver Island. There's the one about Great-Uncle Louis, who came for two weeks and stayed for six years, and the one about Aunt Hattie's mysterious romance -- and, of course, the one about the trolls. That story about the trolls, in fact, might explain a lot about their family history. But trolls aren't real . . . are they?
Whenever I read a book by Polly Horvath, I know to expect a bit of weirdness and whimsy, and this book is no exception. It's a slim volume, but Horvath expertly weaves Aunt Sally's family stories through the framework of a week in the lives of the Anderson children. Aunt Sally is just the sort of crazy aunt that I would like to be, someday -- but I think I'd rather not encounter the trolls.
(Reviewed from my personally purchased copy.)