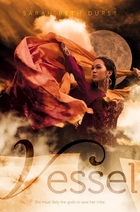 Vessel
by Sarah Beth Durst is a compelling fantasy set in a desert kingdom.
Liyana spent years training to be the vessel of her clan's goddess. The years of training culminate with the ritual dance that will call the goddess Bayla to walk among her people. Liyana dances . . . but Bayla does not come. Is Liyana an unfit vessel, or has Bayla turned her back on her people? Either way, Liyana no longer has a place in her clan. Left behind in the desert, Liyana prepares to struggle for survival, knowing that she will probably die soon. But then Korbyn appears, looking for her. Korbyn is the trickster god, summoned into his own clan's vessel, and he explains to Liyana that Bayla and several other gods have been trapped somehow, summoned into false vessels, unable to come to their people. Liyana and Korbyn set out across the desert to find the other vessels whose gods have been taken, and then to find out what has entrapped the missing deities.
This book has a wonderful setting and fantastic characters -- Liyana's no-nonsense attitude works so beautifully with Korbyn's lighthearted demeanor, and the other vessels are also distinct and interesting. I thought the plotting was mostly strong, though the romantic subplot, especially the way it worked out, was less than satisfying to me. That minor criticism aside, I still completely enjoyed this book, and would recommend it to readers who like YA fantasy, particularly fans of Tamora Pierce and Rae Carson.
(Reviewed from a copy borrowed through my library system.)