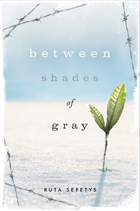 Between Shades of Gray
by Ruta Sepetys is an emotionally evocative story of survival in the face of cruelty and hardship.
It's the last thing 15-year-old Lina expects: in the middle of the night, the secret police pound on the door of her family's house. Lina, her mother, and her brother Jonas are taken from their comfortable home in Lithuania and forced onto a train that will take them to Siberia. It will be many years before Lina is able to return to her home. Worse, her father is also taken, but in a different direction, to a different work camp. Lina and her family struggle to stay together, to find a way to contact Lina's father, and to survive the terrible conditions as they are moved from one train car to another, one work camp to another. Lina doesn't even know what crime she is supposed to have committed. She is often cold, often hungry, often tired, but despite all of this, there is still hope and love. There is still life.
This is an excellent book about an oft-overlooked part of history -- while everybody knows about the atrocities committed by Hitler, fewer realize that Stalin was, if anything, worse. Lina's story is presented plainly, but the bare humanity of the situation does not need fancy writing to add impact. I found this book gripping, reading the whole thing in a day, almost in one sitting.
I feel a personal connection to this story. Though my great-grandparents left Lithuania in the 1920's, they may have left behind friends and relatives who witnessed or endured the sort of hardship described in this book, as the author's note quotes an estimate that the Baltic states lost more than a third of their population under Stalin's regime. That's an appalling statistic, and though Lina's story is fiction, it's well-researched and accurate, based on the experiences of real people. That makes this book a difficult read, at times, but also a powerful one. Highly recommended.
(Reviewed from a finished copy, courtesy of the publisher.)