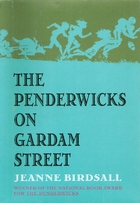 The Penderwicks on Gardam Street
is the second book in the charming Penderwicks series by Jeanne Birdsall. This is another reread via audiobook for me -- I've been doing a lot of those lately.
The Penderwick sisters and their father are home on Gardam street when Aunt Claire drops a bombshell in the form of a letter from the girls' mother. Before her death, Elizabeth Penderwick knew that her husband would be lonely, but would probably not venture into dating again on his own, so she and Claire formulated a plan. Now, several years after Elizabeth's death, Claire is putting the plan in motion. Naturally, the girls have mixed feelings about this -- particularly Rosalind who, as Oldest Available Penderwick, is used to mothering her younger sisters and having her own way in the kitchen. So, the Penderwicks hatch a plan of their own, to "save" their father by setting him up on a series of dreadful blind dates! And of course that's not all that's going on in the busy family: Jane and Skye switch homework assignments with hilarious and disastrous results, Batty becomes obsessed with the "Bug Man," a mysterious stranger who may be lurking around Gardam Street, Rosalind finds her feelings for a boy confused once again, and all four sisters find a charming confidante in their new neighbor, a single mother named Iantha.
This second book in the series is just as charming and gentle as the first, and the audiobook narration is, once again, stellar. I recommend the whole series, for though this book could be read on its own, it does occasionally reference characters and events from the previous volume.
(Reviewed from an e-audiobook borrowed through my library system.)