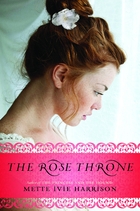 The Rose Throne
by Mette Ivie Harrison is high fantasy about two very different princesses from neighboring kingdoms.
King Haikor is a mercurial ruler whose violent fits of temper can mean that his favorite courtier one day may be executed at his order the next. Growing up in such an environment, sixteen-year-old Ailsbet has learned to adapt, to obey her father's whims without expressing her own anger which so often simmers below the surface of her personality. Ailsbet has always been different from the rest of her people -- without the neweyr, or women's magic, she cannot take part in many traditional activities, or even converse with other women when the topic turns to magic -- and because of that distance, many of her father's court see her as cold and conceited. Music is her only refuge. But when her father starts discussing plans to arrange a marriage for her, will her music be enough?
To the north of Haikor's kingdom lies another land, one with a more benevolent king on the throne. He also has a sixteen-year-old daughter, Marlissa. Since her mother's death, Issa has taken the queen's place as custodian of the neweyr, working alongside the women of her country to strengthen the land. She loves the land and its people -- but as princess, she is also facing the prospect of marriage, and when a surprising offer takes her away from the country she loves, she must learn to adapt -- even though she has lost her heart to a man who is not her betrothed.
This story has its good points, including an interesting binary magic system and issues related to what happens when a person of one gender is born with the opposite gender's magic. I'll admit, however, that I thought this idea was not explored to its fullest potential. The characters are well-developed, though Marlissa's romance is of the hello, I hate you, I love you, we are doomed sort, without a lot of development in between those stages. There are plenty of plot twists, though I never found the book as a whole as gripping as I thought I should, if that makes sense. Also, neither the title nor the original cover are particularly suited to the content of the story -- the "rose throne" is only mentioned in passing, and the lacy pink cover design may lead readers to expect something with more froth and less grit than the story contained therein. I didn't exactly dislike this book, but it's not one I see myself rereading, recommending, or even remembering a few months from now.
(Reviewed from a copy sent to me by the publisher, via the LibraryThing Early Reviewers program.)