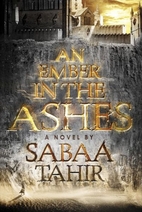 An Ember in the Ashes
by Sabaa Tahir is an exciting YA fantasy debut.
When Laia's brother is captured for spying on the government, she does the only thing she can: she runs. Overwhelmed by guilt, she seeks out the Resistance fighters and begs them to rescue her brother. They will only do so if Laia is willing to take on a dangerous and probably fatal mission. She agrees, and is placed as a slave in the household of the Commandant of Blackcliff Academy. Blackcliff is a strict military academy that churns out the country's leaders -- those it doesn't kill along the way. Elias is one of the fortunate (or strong) few to survive Blackcliff, but despite his years of training, he dreams only of escape. He has his route all planned, and unlike other runaways that he's seen caught and executed over the years, he thinks he can probably make it. Unfortunately for him, the Augurs have other plans. Elias will be one of four graduates to compete in the trials to determine the next emperor. Laia and Elias are both fighting for their lives, in one way or another. What will happen when their paths cross?
I really enjoyed this book -- I found it gripping and well-written, and in many ways original, though it didn't manage to avoid all of the conventions of the genre. I like that Laia is not a typical butt-kicking heroine, and that she does get some nice character development over the course of the story. Elias is equally complex and interesting. Many of the secondary characters are intriguing and well-developed; I'm hoping that we get to hear more about Cook in future volumes of the series, as I have a theory about her. And there will be future volumes; though the book does not end in what I'd term a cliffhanger, it's obvious that the author intends to continue the story. There were a few minor things that didn't work well for me. I found the brutality of life at Blackcliff a bit over-the top; it made for some rather flat villains, much less nuanced than the other characters. I also was rooting for Laia and Elias to not end up romantically involved, since both had another potential love interest, and a YA fantasy without love triangles would be so refreshing. Alas, this is not that book. Still, the romance was a relatively minor aspect of the story, so I don't mind too much. Overall, I liked this book and would recommend it to readers looking for an epic YA fantasy.
(Reviewed from an advance copy, courtesy of the publisher.)