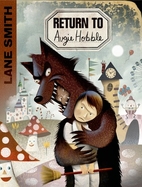 Return to Augie Hobble
by Lane Smith is . . . weird.
Augie's dad runs Fairy Tale Place, a run-down amusement park, which contributes to the surreal atmosphere of Augie's life. Initially, his struggles seem fairly mundane: summer school, bullies, and crushes. But as the summer progresses, things get stranger and stranger: werewolves, ghosts, and UFOs. Or are all of those things just in Augie's head? Is Augie going crazy -- or is there something more sinister at hand?
This one didn't really work for me -- it was a little too surreal and absurd. I like weird stuff, and it seems like this should have been my sort of book, but it just wasn't. Another reader might enjoy it more than I did.
(Reviewed from an advance copy, courtesy of the publisher.)