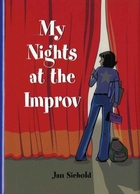 My Nights at the Improv
by Jan Siebold is a simple story about an observer of an improv group.
Eighth-grader Lizzie and her mother have recently moved to a new town, and Lizzie is having a little trouble settling in. While her mother teaches a community education class, Lizzie is allowed to wait in the projector room overlooking the auditorium and do her homework. As she waits, she overhears an improv class, part of the same community education program, rehearsing. She is drawn to the activities of the small group, despite the fact that a mean girl from school is part of the improv class. Each week, Lizzie looks forward to seeing what the class will learn . . . and she is able to take those lessons and apply them to her own life.
This was a nice enough story, but a little pat. Lizzie was always able to immediately apply the things she learned in her eavesdropping sessions, and she neither got caught nor decided to ask to join the class. I picked it up at a library book sale because I like reading about theatre and improv, but I found this book just all right, and will probably pass my copy along now that I have read it.
(Reviewed from my personally purchased secondhand copy.)