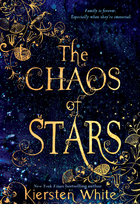 The Chaos of Stars
by Kiersten White is a fun, snarky read featuring Egyptian mythology in a modern setting.
Isadora is the mortal daughter of Egyptian gods, and she's kind of bitter about it. After all, what's the use of one mortal lifetime in comparison with her family's eternal years? In dealing with her moody teenage daughter while preparing for the birth of another child, Isis sends Isadora from Egypt to America to spend time with Sirus, Isadora's older (but also mortal) brother. But to keep her still involved with family concerns, Isis arranges for Isadora to volunteer at a museum that will be hosting an exhibit of art and sculpture belonging to Isadora's family. While working at the museum, Isadora makes friends with Tyler, a cheerful girl who is also volunteering there. She also meets handsome, brooding Ry -- but Isadora is determined not to fall in love, so she can just be friends with him, right? Life in California is not all parties on the beach and romantic tension, however: unexpected dangers await Isadora, and disturbing dreams point to trouble for her mother back in Egypt. Isadora is irritated at her mother, true, but she doesn't want any real harm to come to her . . . but who could harm a goddess?
This is a light, fluffy read, but it does a lot of things well. I'm no Egyptian mythology buff, but Isadora's brief explanations of life with her crazy family made the complex myths interesting and comprehensible to even a casual reader. The romance aspect of the plot was predictable but probably still enjoyable for most readers, and the mystery not too terribly obvious. Characters are well-written and likeable -- I was particularly fond of Sirus and Tyler. The dialogue and Isadora's snarky inner voice are the real stars of the book. If you like light reads with romance and mythology, and don't mind just a little teen angst, give this book a try.
(Reviewed from a copy borrowed through my library system.)