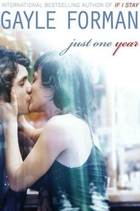 Just One Year
by Gayle Forman is the companion book to her earlier novel,
Just One Day
, which I
reviewed
earlier this year.
Willem spent one day in Paris with a girl, and it's messing with his head. Willem has spent a lot of time with a lot of girls, but this one girl, Lulu, is the one he can't forget. The problem is that he went out to get breakfast after their one night together, and got beaten up and hospitalized and just generally delayed, and he lost her. He doesn't know where she went, or even who she is -- "Lulu" is just a nickname he gave her. Over the course of a year, Willem spends a lot of time alternately trying to find Lulu and trying to forget her. Along the way he reconnects with the family he's tried to put behind him and the friends who have supported him all along, rediscovers a passion for acting, and starts to find his way in life. But will he ever reconnect with his Lulu?
As with the last book, I found this one just okay. In the last book, I couldn't get a real sense of Willem's character, so I had a hard time understanding Allyson's fixation on him. Now that I have read this book, I actively dislike him, so it makes it even more difficult for me to root for him to get back together with Lulu/Allyson, a character that I actually did like. Because, let's face it: Willem is kind of a jerk where women are concerned. A charming and apparently handsome one, but a jerk, nonetheless. On the other hand, stepping back from my opinion of the character, this does mean that the writing in this book is good enough to make me care about the characters, and I did find it a quick and fairly engaging read. Fans of realistic YA fiction will probably enjoy these two books, and readers who liked the first book will want to read this one in order to get the other side of the story.
(Reviewed from a copy borrowed through my library system.)