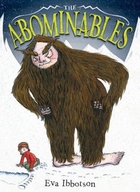 The Abominables
by Eva Ibbotson is a posthumously-published work, probably the last from one of my favorite authors.
When Lady Agatha Farlingham is kidnapped by a fearsome creature in the Himalayas, she expects the worst . . . but soon discovers that the yeti family who abducted her are in fact extremely sweet and kind (and strict vegetarians), and just need someone to care for the babies because the mother yeti has died. For nearly a century, Lady Agatha cares for the yetis, teaching them English and proper etiquette. But when resort hotels and ski lodges start encroaching on the secluded valley that the yetis call home, Lady Agatha requests the help of a young boy named Con to remove the yetis to her ancestral home in England. On the overland journey through Asia and Europe, the Abominables have many adventures -- but the one that awaits them in England will be their most challenging yet. . . .
This is a cute and whimsical story, like much of Ibbotson's juvenile fantasy. I prefer her historical romances, but I was glad to read this last story, and can see myself recommending it to children who are looking for a light and funny fantasy.
(Reviewed from an advance copy passed along to me by a friend.)