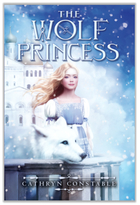 The Wolf Princess
by Cathryn Constable is a wintery fantasy with the ethereal melancholy of a Russian fairy tale.
Sophie Smith is an orphan, a charity student at a dismal boarding school. Sandwiched between her roommates, the fashionable Delphine and intellectual Marianne, Sophie is almost invisible -- until the day she catches the eye of a visiting Russian woman. Sophie has an inexplicable longing for Russia, and hopes to go there for the school's spring trip, but she knows her absentee guardian will never approve such an expense. When circumstances conspire to allow Sophie and her friends to make the trip, she is pleased (even though the others would rather go someplace warmer than Saint Petersburg). In Russia, Sophie, Delphine, and Marianne are whisked away, not to stay with a host family as expected, but on a train ride through a blizzard to an exquisite but neglected palace deep in the Russian countryside. There, they meet a princess and learn of the tragic past of the Volkonsky family who used to live in the palace. The princess claims to be delighted to have company, and fetes the girls with picnics and skating parties and sleigh rides in the snow, despite the legendary white wolves that haunt the area around the palace. But why have Sophie and her friends been brought there? Is is by chance, or the whim of the princess . . . or is there some darker reason?
I'm a sucker for anything with a Russian feel, so this fantasy is right up my alley. It's not a perfect book -- the characterization is a little flat, and seasoned readers will find the plot twists fairly predictable -- but it does really well with describing the setting and creating atmosphere, well enough in my mind to make up for its other defects. If you're a fan of juvenile fantasy and are looking for a lovely winter read, you should certainly consider this modern fairy tale.
(Reviewed from a copy borrowed through my library system.)