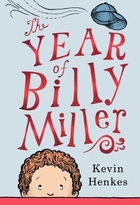 The Year of Billy Miller
by Kevin Henkes is a pleasant book about a second-grade boy.
Billy Miller is not sure if he is ready for second grade. What if he doesn't like his teacher? What if she doesn't like him? What if the bump he got on his head on a family vacation makes it so he can't learn the things he needs to know? Billy has other worries, too: will his artist father ever get his "breakthrough?" Will his little sister always be so annoying? And he has big plans, like the one to say up all night long, and the one to memorize the poem he has to say for Family Day at school. Don't worry, Billy Miller -- you're going to have a great school year!
Kevin Henkes' real strength as a writer lies in creating child characters that are entirely believable and sympathetic. Every time I read one of his books, I think, "Here is a man who remembers exactly what it's like to be a kid." Billy's worries and feelings and plans are so authentic to kids of his age that I'm sure readers will enjoy his story, even though there are no big, exciting events in the plot -- just a string of normal school-year adventures. In that regard, this book reminded me of Beverly Cleary's Ramona books, so readers who enjoy that sort of story will probably like this one, as well.
(
Reviewed from a copy borrowed through my library system
.)