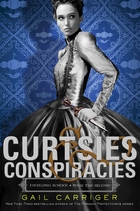 Curtsies & Conspiracies
by Gail Carriger is the second book in the Finishing School series, and just as much fun as the first!
In this book, Sophronia continues to learn the fine points of etiquette and espionage at Mademoiselle Geraldine's Finishing Academy for Young Ladies of Quality, but many exciting things are afoot. The airship housing the school is traveling to London, and a select group of boys from Bunsen's, their brother school, has come aboard as well. All of the girls are eager for a trip to town (and a chance to flirt with some boys along the way), but Sophronia believes that there is more going on than meets the eye, and she is determined to use her skills to discover exactly what's going on. . . .
This series continues to be highly enjoyable, with steampunk goodness, vampires, werewolves, and espionage. Certainly start with
Etiquette & Espionage
if you are unfamiliar with the series, but readers who have already read and enjoyed that first book will find this one just as engaging.
(Reviewed from a copy borrowed through my library system.)