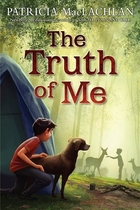 The Truth of Me
by Patricia MacLachlan is a short but deep book about a boy, his dog, and his grandmother.
While Robert's musician parents are on tour, Robert is pleased to stay with Maddy, his eccentric grandmother. Robert's parents are impatient with Maddy's stories, and even her friend and doctor Henry is skeptical, but Robert believes wholeheartedly in Maddy's tales of her adventures with the animals that live in the forest next to her house. Robert has many anxieties, though: will his dog Ellie be good with the animals? Will he ever feel as close to his parents as he does to Maddy? Does his mother love her violin more than she loves Robert?
As with all of MacLachlan's books, this is a quick read written in simple language. The author does an excellent job of providing, with just a few descriptive phrases, reams of information about the characters and the setting, so that readers can easily picture Maddy's cottage and garden, Ellie's hound-dog soulfulness, the campsite in the woods where Robert meets Maddy's wild friends. I know fans of this author will be looking for this book, and it might earn her some new fans, as well.
(Reviewed from a copy borrowed through my library system.)