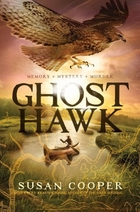 Ghost Hawk
by Susan Cooper is an historical fantasy set in colonial America in the years leading up to King Philip's War.
When Little Hawk leaves his village for a winter in the wilderness, a rite of passage that every Wampanoag boy must face. When he returns, however, it is to find that nearly the whole village has succumbed to a fever spread from the white traders who have recently come to the region. As Little Hawk and the few survivors are incorporated into another village which has also seen losses from the fever, by chance he meets John Wakely, a boy a few years younger than himself. Little Hawk will meet John Wakely once again in his lifetime, and that meeting will change both boys' lives in profound and startling ways.
This is a gripping read that deals with an historical period that may be unfamiliar to some readers. Life in Little Hawk's Wampanoag village is respectfully described, and the conflicts between the settlers over issues of church and state are shown in dramatic and interesting ways. While the book has its flaws -- for instance, I thought a character that appears toward the end of the book was too obviously a stand-in for the author -- I found it an enjoyable read overall, and would recommend it to readers who enjoy similar types of stories.
(Reviewed from a copy borrowed through my library system.)