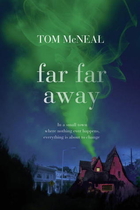 Far Far Away
by Tom McNeal is assigned reading for a seminar I'm attending in January. I can already tell that I'm going to have a hard time discussing it critically . . . because I loved it so much!
Jacob Grimm may have died in 1863, but his spirit is doomed to wander until he figures out what it is he has left undone. After some years of roaming, he finds a boy in a small town who is one of the few in the world who can hear the voices of ghosts. Jacob knows that there is also in Jeremy's small town a Finder of Occasions, who will do Jeremy harm if left unchecked. If Jacob can protect Jeremy and encourage him to excel in school and go away to college, Jacob reasons, he can perhaps move on himself, to whatever comes next. Of course, it won't be that easy. . . .
I'm over-simplifying the plot with that summary, and certainly not doing it justice. This book has magic, humor, suspense, and romance. The characters are excellent, the writing is brilliant, and I didn't figure out who the Finder of Occasions was until fairly late in the story, though perhaps a savvier reader would have caught on sooner, since there are some nice fairy-tale related clues dropped with gentle precision at key points. There are some dark parts to the story, as well -- I wouldn't recommend it to kids, necessarily, but readers from middle school up who love magical realism and fairy-tale references should definitely read this book!
This is one of my rare five-star reads, and will definitely be among my favorites for the year.
(Reviewed from a copy borrowed through my library system.)