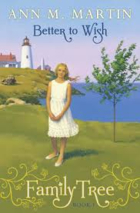 Better to Wish
by Ann M. Martin is the first book in a new middle grade series by Ann M. Martin.
Abby's family lives in a small town on the Maine coast. They don't have a lot of money, but they're better off than many during the Great Depression. Abby's father works hard and is determined to provide a better lifestyle for his family. Unfortunately, this quest brings out hardness and cruelty in his character. Abby's growing-up years are full of both joys and sorrows, and as an adult she reflects that sometimes it's better to wish than to know what lies ahead.
I had high hopes for this series, but they have not been realized in this first book. I found the pacing a little jerky -- the story jumps from one episode in Abby's life to another, sometimes with as much as a year between events. The characters felt more like sketches than actual people to me, and I think a little more time filling things in would have helped make them more real. I also found the ending of the story abrupt and completely unsatisfying. Perhaps this is intended as a cliffhanger, to encourage readers to pick up the next book, but my understanding was that each book would follow a different generation, which means that my questions would only be answered obliquely in the next volume, if at all. This is one I don't see myself recommending, though some readers who like this sort of quiet historical fiction may find the series more enjoyable than I did.
(Reviewed from a copy borrowed through my library system.)