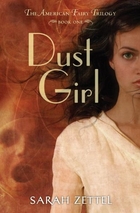 Dust Girl
by Sarah Zettel is a YA fantasy novel with a unusual setting: the American Midwest, circa 1935.
Callie and her mother are two of the few remaining townspeople in Slow Run, Kansas. It's the middle of the Dust Bowl, and everyone who can leave is either one their way out or already gone, looking for better opportunities. Callie's mother won't leave, though -- she believes that, if she stays, Callie's father will one day come back to her. When Callie's mother disappears during a dust storm, Callie must strike out on her own, because it may not have been just an ordinary storm that spirited her mother away. Powerful forces are at play, and Callie will soon find herself wrapped up in a world she never dreamed existed.
The setting of this book is its real strength -- I could almost taste the dust in the back of my throat. Moreover, the faeries in this book fit seamlessly into that setting, though it's one that doesn't spring to mind when one thinks of the Unseelie Court. But, immersed in Callie's world of dust storms and jazz clubs and amusement parks, it all works in an historical-urban-fantasy kind of way. But while the setting was great, the plot and characters were less memorable. I didn't find myself deeply invested in Callie's journey. So, while I found this an enjoyable enough read, I'm not sure whether I will continue with the rest of the series.
(Reviewed from a copy borrowed through my library system.)