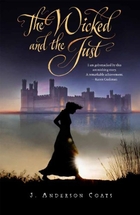 The Wicked and the Just
by J. Anderson Coats is a fascinating, occasionally brutal story set in medieval Wales.
Cecily is sure her life is over. Her uncle has returned from the Crusades, displacing her father who was unfortunately only a second son. Now, instead of inheriting the beautiful estate in England where she has always lived, her father is taking her to Caernarvon, Wales -- a country which Cecily believes is populated entirely by barbarians, where she is sure to never get a marriage proposal. Her only recourse is to sulk and make life miserable for everyone around her -- especially Gwenhwyfar, her new Welsh servant.
Gwenhwyfar despises Cecily and refers to her only as "the Brat" . . . and can you blame her? Gwenhwyfar was once the daughter of a wealthy man, but her father died fighting against the British invaders who now hold Caernarvon in their clenched fists, and grind the remaining Welsh population under their heels. Gwenhwyfar and her brother Gruffydd are now the breadwinners of their family, as their mother is slowly dying in their tiny cottage. Like all of the Welsh in Caernarvon, Gwenhwyfar and Gruffydd suffer from unfair taxation and indignities large and small. And, like all of the Welsh in Caernarvon, they resent it. It doesn't take a brilliant tactical mind to see that trouble is brewing -- even Cecily recognizes some of the injustices that confront her every day. But when the tables are turned, what then?
This is a challenging read. I enjoyed learning about an historical setting and period not often featured in young adult literature, but the injustice and brutality make for a stark read, and the unlikeable main characters don't offer much relief. Both Cecily and Gwenhwyfar grow over the course of the story, but Cecily starts out as such a brat, and Gwenhwyfar brims with such palpable resentment, that it's hard to relate to either, even at the end of the book. However, I'm glad to have read it, and I would recommend it to readers interested in medieval stories and not put off by some true-to-life violence.
(Reviewed from a copy borrowed through my library system.)